Upcoming Conferences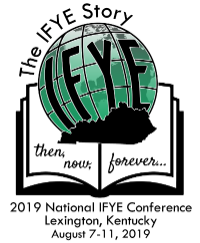 Hotel Reservations (Link here to make hotel reservations)
HILTON HOTEL (Downtown Lexington)
369 West Vine Street
Lexington, KY
TEL: (859) 231-9000
FAX: (859) 281-3737 
Conference headquarters will be at the Hilton Downtown Lexington in Lexington, Kentucky.

NOTE: The conference single or double room rate will be $129.00 per room per night. Breakfast and parking are included in this room rate.

Hotel rooms may be reserved from August 5 through August 11 at this conference rate.

Hotel Reservations must be made by attendee by July 17, 2019 to guarantee this room rate.
To make hotel reservations online, click on the link above OR Call (859) 231-9000 to reserve by phone with conference code IFYE19.
Conference Registration
PLEASE NOTE:  Registration is only being accepted online. 
If you have questions regarding the registration process,
please go to ifyeusa.org and click on "About IFYE/Contact Us" to ask your question. Thank you.
_________________________________________________________________________
Upon completing your chosen registration, you will immediately see an online display and also receive an
e-mail notification to verify that you have registered for the 2019 IFYE Conference. This registration
confirmation will have a tracking number related to the type of registration you have successfully completed.
__________________________________________________________________________
Full Time Registration 
$295     REGULAR Conference Fee (May 02 - midnight JULY 04, 2019 USA Eastern Time)
$310     LATE Conference Fee (JULY 5, 2019 onward)

Part Time Registration for Conference 
This section is ONLY for individuals who  wish to participate in the 2019 National IFYE
Conference in Lexington, Kentucky on a part time basis.

Supplemental Registration
This supplemental form may only be used AFTER confirmation of a submitted Full Time or
Part Time Registration above has been received and wishing to add additional tickets
to that particular registration.
========================================================
TRAVEL INFORMATION in Lexington or other areas of Kentucky:
Visit https://www.kentuckytourism.com
=======================================================