Mission-Vision-Guiding Principles
Guiding Principle #3
We believe that multiple host family stays enhance life skills, development and global citizenship.
I really enjoyed my IFYE summer Ambassador exchange to Italy. My first host family lived and maintained a rural farm in the Valdichiana Valley about a half hour from Arezzo or a little over two hours north of Rome. Our farm included crops, a vineyard, pigs and some sheep and cows for milking and for cheesemaking. Actually, it seemed they had their hand in a little bit of everything.  It's not surprising to learn that after 30 years, they've turned their idyllic homestead into an "Agriturismo," which is a working farm-stay retreat, sort of like an Italian B&B in the countryside. True to the nature of many Italian families, we lived together in a multi-generational household – one grandfather, two sons (one married at the time), one daughter, one daughter-in-law and the grandchildren, a boy and a girl.
We usually would eat our evening meal together – myself included equaled eight at the dinner table. That was many more people than I was used to eating with at mealtimes in the States, but it made for lively conversations and lots of laughter. I often would need help from a family member with cutting the hard rind off my Pecorino cheese course or removing fruit peels from the peaches or plums that were served after dinner as well. Somebody was always generous to help me out with the knife skills or laugh at my attempts to explain in broken Italian what I had done that day. Sometimes my words would come out wrong or slightly mispronounced, but hand gestures could usually speak just as well as an incorrectly accented word.
Guiding Principle #3 Photos
In the summertime, my host mother's mother, the grandmother (or "la nonna" as we called her), would come to visit from far away for a few weeks at a time and then the ladies of the household would go into bread and pasta-making production. They used an outside summer kitchen with a wood-fired oven, sort of like the pizza-making ovens we are familiar with today. The dough was made without yeast so that it wouldn't rise but it still needed to be measured and cut into portions, then rolled out through a pressing machine and made into circular discs like a pizza shell. The Sardinian-style flatbread would puff up in the oven, get toasty and then the air holes would lose their steam when removed from the oven. My youngest host sister was about three years old at the time of my stay and she would come into the kitchen to play in the flour, being a little too young to really help in the actual making of bread, but nonetheless welcomed as part of the cross-generational experience.  La nonna is still making bread today, well into her 90's!
The respect and reverence given to each generation of family members in Italy was something I saw and experienced within both of my host families for the summer of my stay. My second host family lived in southern Italy in Salerno, a coastal rural suburb south of Naples.  They operated a tomato and tobacco farm. In the south, even extended families and cousins didn't move too far away from their own parents or grandparents until they were married themselves. Any normal family celebration of a birthday, anniversary, graduation, or marriage became a festival for the night with everyone in the family stopping by to celebrate together.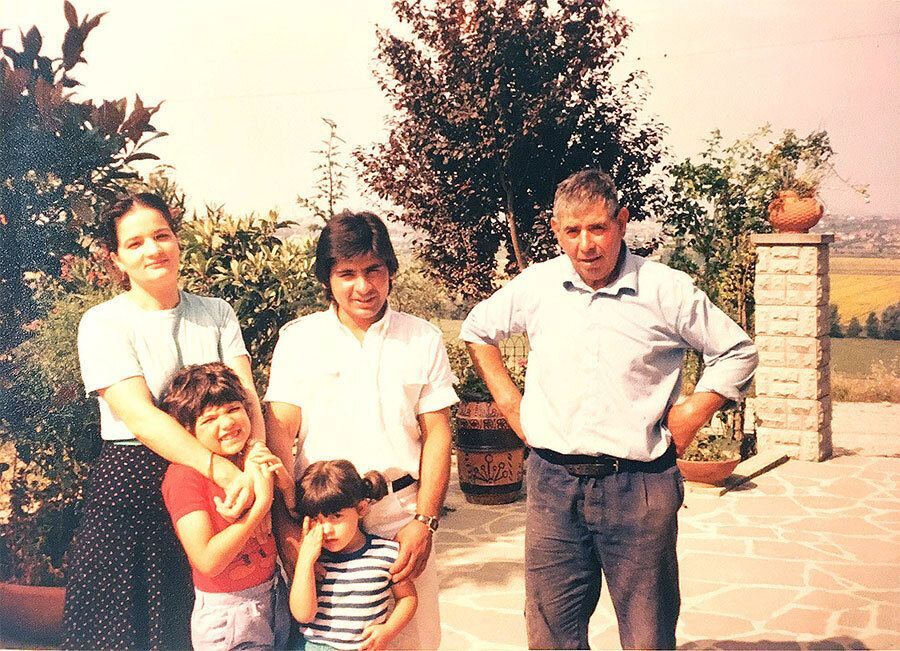 Thanks to my IFYE exchange experience, my personal development was broadened in the following ways:
I think learning to be comfortable and conversational among our elderly or even with our own grandparents, and if we're really lucky, with our great grandparents, are developmental traits that have served me well throughout my career choices.  
I've always led with a servant's heart no matter whether it was during my 10-year retail career as a Department Manager at Nordstrom or when I transitioned to banking and eventually landed as a Financial Planner with Thrivent Financial. 
I feel that I'm patient, I listen to people when they speak, I give them time to present their point of view and I don't feel the need to critique or judge others for being different than myself.  From personal experience on my IFYE exchange, these are all skills that I learned first-hand.
I like to hear the stories that my older clients relay to me during our visits when discussing their accounts. They tell me about their recent travels, the cultural experiences they enjoyed while abroad, and even about the places they still dream about seeing in their retirement. We visualize and strategize about their financial plans together.
I feel very privileged when I'm allowed to work with another generation of the same family in my line of work. Although the younger generation may eventually become beneficiaries to their elders, it feels like I've been invited into their extended family. In getting to know the sons and daughters of some of my clients and in a few rare instances, even their grandchildren, I feel I've brought the joys and celebrations of my multi-generational IFYE host family experiences full circle.
Sheri Swackhamer 
1983 IFYE Ambassador from Maryland to Italy