Ways to Give
Make a Donation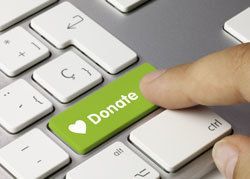 Your gift will help ensure that a new generation of young adults will have a chance to discover a life-changing experience.
Your donations will help us to fund both Outbound and Inbound programs. As the world becomes a more global community, the need for young adults to become increasingly culturally cognizant is more important than ever.
There are two ways you can donate: Online or by mail. To donate online, please fill out and submit our online payment form below. You can choose a one-time donation or a recurring donation - monthly, quarterly, bi-annually (2x per year), or annually. You will receive a confirmation email immediately after submitting your donation.
To donate by mail, please download and print the donation form, fill it out and mail it along with your credit card information or check to the address listed below. View/Print/Save: Donation Form
IFYE Association of the USA, Inc.
Roger Sherer
PO Box 452
Bluffton IN 46714-0052

Phone: (260) 307-2012
Annual membership is automatically awarded to any individual making a donation of $30 or more. Your entire donation is tax deductible to the full extent of the law.
Please note we're using a new payment form below. Here's a brief description of each field on the form and how to fill it out:
Many donors give a one-time donation as well as an additional recurring monthly, quarterly, or semi-annual donation. If you'd like to do that too, please submit your first donation and then refresh your computer screen after you receive your first donation success message. The payment form is then ready for you to submit your second donation. Please follow these steps to submit your online donation:
Enter your donation amount. Minimum donation amount is $10.00.
Fill in your name and credit card information.
Enter your billing address. As you begin typing in your street, the address block will expand so you can enter your city, state and zip code.
Provide your email address.
To answer the question "Share my name on IFYE's Annual Donor list," click the question to select your Yes or No response.
How often do you want your payment to occur? Please select one time, monthly, quarterly, biannually (2x per year) or yearly. For recurring options, your credit card will be charged the same date for the next recurring payment as your original donation.
Add an Additional Donation? If you'd like to help IFYE cover credit card processing fees, please check the box to add the additional amount displayed to your donation.
Check the 'I'm not a robot' box.
Click Pay Now. As soon as your donation is processed, you'll receive a success message on this screen along with an email confirmation.
Online Payment Form