Foreign Exchange Program
2023 IFYE Outbound Participant Program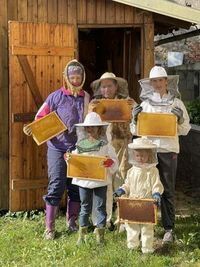 To become a 2023 IFYE:
You will be expected to be an active participant as a member of your host family.
Successful participants must be able to think on their feet and represent themselves and their country positively.
You must be at least 19 years of age.
Application, interview, orientation, and debriefing required.
Participation fee is $3,750 for the two- or three-month program. Participant fee is $5,000 for the six-month program.
Scholarships may be available through your state. Please check with National Program Director, Melissa Haberstroh at mhaberstroh@ifyeusa.org for this availability.
2023 IFYE Program Dates:
June 14-19: IFYE Orientation in Washington, D.C. (two-, summer & fall three-, and six-month programs)
June 19: Begin summer two-month, summer three-month and six-month programs. Learn more
August 14: End of two-month summer program
September 7: End of three-month summer program 
September 7-10: Debriefing for two- and three-month summer programs
September 17: Begin fall three-month program. Learn more
December 10: Ending of fall three-month and six-month programs
December 10-13: Debriefing for fall three-month program and six-month program
Additional information can be obtained by:
Checking other information/links under the Foreign Exchange Program navigation link at the top of on the website or in the left sidebar.
Contacting Melissa Haberstroh, IFYE National Program Director via email at mhaberstroh@ifyeusa.org or calling 210-816-1114.