About IFYE
IFYE Board Member - Sheri Swackhamer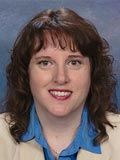 Sheri was an IFYE to Italy from Maryland in the summer of 1983. She lived with two farming families when the exchange program focused on travel to a destination with a similarly held 4-H project, such as clothing. One family in Arezzo, an hour S. of Florence, produced cheese, dairy and field crops. The other family in Salerno, near the Naples coastline, raised tobacco and tomatoes, all harvested by hand! Sheri has kept in touch with both host families, host siblings and various cousins through letter writing, Facebook, phone calls and has visited both families twice since her exchange trip.
Undergraduate college was spent at University of Maryland in College Park, MD, where Sheri received a B.S. degree in Business/Fashion Merchandising with a Minor in Italian. Sheri worked for 10 years at various Nordstrom Dept. stores in MD, VA and IN, managing multi-million-dollar departments, such as Fine Jewelry, Handbags/Accessories and Kidswear clothing, with up to 20 employees, before moving on to work at Bank of America where she could actually spend some holidays with her family.
At Bank of America, she worked in retail banking and as a Wealth Manager for their Premier banking channel for 7 years before moving on to become an independent financial representative with Thrivent Financial for the past 13 years. Sheri is currently working in financial sales and retirement planning for Thrivent, a not-for-profit Christian fraternal organization, from her Alexandria, VA office.
Having been a long-time 4-H member, Sheri has had experience with hosting IFYE Ambassadors during her high school years as well as AFS Exchange students. Her family has hosted summer program and year-long students from France, Finland, and Ecuador, S. America. Sheri was active with the MD Chapter of IFYE during her college years and then relocated for employment to Indiana. Her parents are active 4-H alumni and are also co-sponsors of the Salute to Excellence Award given to top 4-H leaders nominated by their states and presented at the National 4-H Center each year in the fall.
Spare time for Sheri is spent playing competitive tennis on various USTA mixed or women's doubles teams at her local gym or puttering around a golf course as a beginning golfer. International travel is always on the long-term radar for fun, having recently returned from a 2018 fall trip to the Czech Republic, Hungary, Slovakia, Austria and Germany on a Danube river cruise with her family.
Sheri is active with various business associations in the Northern Virginia area, with her Lutheran Church, and with the Capital Area Carcinoid Cancer Survivors support group. Her skills and interest for the IFYE Board include non-profit experience; work with inbound and outbound host family assistance; social media outreach; finance, fundraising and membership recruitment. She is excited to be in her second term of service to the IFYE Board of Directors.