News & Events
Four Corners of the World Reached in International Exchange Program
WASHINGTON, D.C. – Participants in this year's IFYE Association of the USA, Inc., (IFYE) international exchange experience left for their host countries today and will touch the four corners of the world in this year's program. "IFYE is proud to welcome this year's participants, and we are additionally honored to have three members of the Minorities in Agriculture Natural Resources and Related Sciences (MANRRS) organization participating in our 2019 program," said Ken Gordon, Executive Director, IFYE. The two organizations will be well represented in the four corners of the world as these participants live near the Arctic Circle, South America, Europe and Asia for three- to six-months.
"MANRRS is excited for this collaboration with the IFYE Association. Through this partnership, MANRRS is able to help connect minority student leaders with unique opportunities to travel, learn and live abroad," said Ebony Webber, Chief Officer of Operations, MANRRS. "On their own, many of our student members lack the financial resources as well as professional networks to join in this endeavor. We found students who have international experience are more competitive for jobs. By partnering with IFYE, MANRRS is leading a grassroots approach to increase the number of minority students with international experience."
Six U.S. IFYE representatives have successfully met all the requirements and have been selected for the 2019 IFYE program. All attended the IFYE National Orientation in Washington, D.C. from June 13-16, 2019 before departing for their host countries on June 17. MANRRS participants are Amaris Daniels, Fla., to Taiwan and Thailand, Vi Nguyen, Neb., to Switzerland, and Mikhala Martin, Ohio, to Norway. Additional participants in the IFYE exchange program are Elizabeth Otte, Mo., to Germany and Uruguay, Nick Birsa, Ill., to Taiwan and Thailand, and Emily Witmer, Penn., to Luxembourg.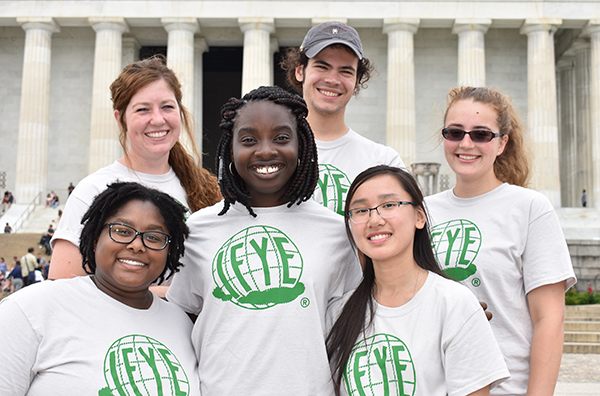 Each of these young adults will live with three or more host families while in their countries. There, they will experience the opportunity to gain a deep understanding of the country's culture by living in different rural regions of their host countries. At the same time, IFYE will welcome 12 participants from six countries who will live and experience the U.S. culture by living with host families in rural areas of Alaska, Virginia, Ohio, Kansas, Nebraska, South Dakota, Illinois and Wyoming. "It is a true cultural exchange program, unlike other programs, that offer sightseeing from a tour bus window, our participants fully experience other cultures," said Ken Gordon
About IFYE
Founded in 1948, the IFYE Association of the USA, Inc. provides cultural exchange programming that places participants with multiple host families during a three- or six-month period in one or more of 15-plus countries. IFYE representatives experience a once-in-a-lifetime opportunity to gain an understanding of the culture and lifestyle from those they live with while in the program. IFYE exchanges are conducted in collaboration with country coordinators and programs are facilitated and supported by the IFYE Association of the USA, Inc. The IFYE vision of "Peace through Understanding" continues to touch the lives of people around the world.
About MANRRS
Founded in 1984 on the campus of Michigan State University, MANRRS is a national society that pursues excellence in leadership, scholarship and service. The Society promotes and fosters minority involvement in agriculture, natural resources and related sciences fields. The national society consists of more than 55 chapters located at various colleges and universities throughout the United States. Individual chapter activities, regional events and the annual national conference are designed to develop a partnership between students in agriculture, natural resources and professionals from academic institutions, government agencies, and private industry. MANRRS establishes partnerships by promoting professional development, networking, and career placement in a nurturing environment.
Learn more about the IFYE Exchange Program