News & Events
73 Years Promoting Cultural Diversity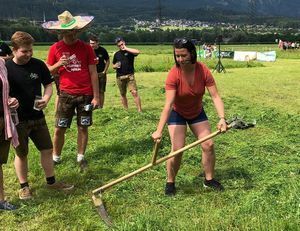 IFYE's Positive Impact on the World
2021 marks the 73rd year anniversary for the IFYE Association of the USA, Inc., a non-profit 501(c)(3) organization. It is the premier organization devoted to deep cultural exchange opportunities by sending young rural adults from the U.S. for two-, three- and six-month experiences living and working with rural based, host families in other countries.
"IFYE provides a unique experience for young adults by placing them with families in rural areas around the world," said Art Deisher, IFYE Board President. "We have experienced a wonderful history from our beginning in 1948 with a grant from the Ford Foundation, and others, to our program being administered through 4-H, to now again being a stand-alone non-profit organization."
The organization was founded as a way to promote global awareness, diversity and deep cultural understanding. Over the years more than 4,500 participants have traveled to more than 81 countries around the world, while at the same time more than 6,500 exchangees from other countries have shared experiences with U.S. families.
Many recent headlines have been focused on biases among cultures. It was the belief of the four founders of IFYE in 1948 that bias stems from a lack of understanding. They recognized, more than 73 years ago, that learning about another culture by living it would help people embrace the value of diversity.
The Association relies upon contributions from alumni, corporate sponsors and foundations. In 2000, a Presidential "Memorandum on International Education Policy," stated, "to continue to compete successfully in the global economy and to maintain its role as a world leader, the U.S. needs to ensure that its citizens develop a broad understanding of the world, proficiency in other languages, and knowledge of other cultures." IFYE accomplishes this Presidential goal.
Founded in 1948, the IFYE Association of the USA, Inc. provides deep-immersion cultural exchange programming that place young adult participants with multiple host families during two-, three- or six-month periods in countries around the world. IFYE participants experience a once-in-a-lifetime opportunity to gain a thorough understanding of the culture and lifestyle from those they live with while in the program. The program supports the Association's vision of a world of healthy, food secure people, who live peacefully in thriving communities and are prepared to work globally.