Foreign Exchange Program
Jesa Marsh - Montana to United Kingdom 2011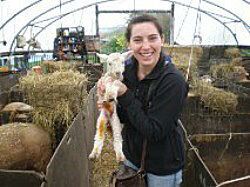 Shwmay, Jesa a dwi!  (that's Welsh for Hello, my name is Jesa)  In 2011 I was the Montana IFYE delegate to the United Kingdom for six months where I travelled Scotland, Northern Ireland, Wales, and County Devon, England.  While there I lived with approximately 30 different families and moved at least once every week, often up to four times a week.  I stayed with members of Young Farmers Clubs, which is an organization similar to 4-H. 
I had the opportunity to live and work on many farms.  I worked with dairy, beef, chicken, goats, sheep, etc.  I also got to experience the difference between farming in the UK and farming in the US.  For example, in the UK they cut silage and store it in massive pits.  They use silage because if they waited for hay to cure, they could be waiting endlessly due to the regular rain storms.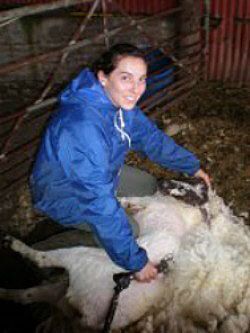 Although all four countries follow the same regime, they could not be any more different.  The most difficult part of adapting to my new surroundings was training my ear to each of the accents.  Each country has their own dialect, and to make things slightly more difficult for my brain to comprehend the native people of Wales speak Welsh.  However, I was quite surprised how much the American culture influenced the young people of Britain.  I was often asked if I knew or had seen any famous people in American.  I had to explain that Montana alone is 1.5 times the size of the whole United Kingdom and that the chances of me seeing a famous person was really quite slim. 
It has been three years since I've returned to Montana, and there is not a day that goes by that I don't think about my exchange.  I would not trade my experience for anything in the world and it has ignited a desire to continue to travel the world as well as open my door to other IFYEs travelling to Montana.