Foreign Exchange Program
Hannah Nordby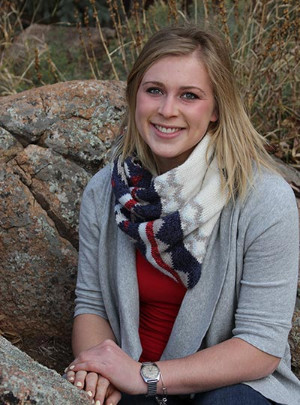 Hello! My name is Hannah Nordby. I grew up on a ranch in Southwest North Dakota and spent my high school years participating in various sport, 4-H and FFA activities. These organizations allowed me to travel across the country, learning about myself and the agricultural community. During my sophomore year at North Dakota State University, I decided to reach outside my comfort zone. Through the National Student Exchange I spent a semester in Laramie, Wyoming. Laramie offered a wide array of new experiences and ways to personally grow. Long story short, I never left! I am currently student teaching in a high school agricultural classroom, and will be graduating in May 2018 with a degree in Agricultural Education.
Because pushing outside my comfort zone has proven to be a positive life changing experience, I applied for the IFYE Exchange Program. When envisioning my future classroom, I want to create an environment where the sky is the limit! I hope to use my experiences in Thailand and Taiwan to achieve this dream. Experiencing new cultures, educational systems and agricultural production will allow me to globally educate students in a rapidly changing world. Understanding cultures beyond our borders is important in overcoming global challenges. I hope the stories and memories I will share, inspire students to not only reach outside their comfort zone, but think "outside the box" as well.
My experience begins June 14, 2018. Would you consider helping offset the $3,000 participation fee? Any amount would be greatly appreciated. Upon returning, I would be honored to share my experiences with you or any groups you feel could benefit from hearing my story! If you would like to contribute to my upcoming journey, please visit my GoFundMe account: https://www.gofundme.com/hannah-nordby-ifye-participant
The IFYE Association of the USA, is a Premier International rural-based Exchange Program for young adults 19 years of age and older. IFYE is a 501(c)3 non-profit organization. The IFYE Association of the USA alumni and other donors contribute about 85% of the program costs. The $3,000 is the selected participants' contribution for their 3 or 6-month experience with host families. Having met the requirements of the IFYE Association of the USA, Inc. Hannah Nordby is approved to create/use a GoFundMe account for fundraising.