Foreign Exchange Program
Marit Hovey - Iowa to Morocco 2022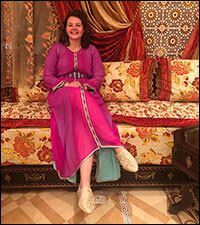 Celebrating Eid al-Adha
The Islamic holiday, Eid al-Adha also known as the Feast of Sacrifice, landed during my time as an IFYE to Morocco. This holiday celebrates the willingness of Ibrahim to follow Allah's orders to sacrifice his son. Before Ibrahim sacrificed his son, Allah rewarded him for his obedience and willingness to sacrifice his own son. God gave him a lamb to sacrifice instead. Eid falls on the 10th day of the Islamic calendar; it was on July 10th this year.
To celebrate, my IFYE sister Sanders Barbee (IFYE from Kansas) and I went with our country coordinator Mohammed to Ksar el Kebir to visit his family, some of whom came back from Spain and France. (It was 112°F when we arrived). From the beginning, it was a big party, as many family members had not seen each other for over two years due to COVID.
The night before Eid, the women took Sanders and me out to the local markets which were jampacked with people out for the holiday. As we returned, they told us that a lady was coming sometime around 3 a.m. to do henna for the women if we wanted to stay up. Sanders and I were shocked that anything would be happening at 3 a.m. but wanted to be a part of the tradition and told the family to wake us up when it was time. We woke the next morning to find they did not want to wake us up and generously asked the lady doing henna to come back later in the day to do ours. (Henna is mainly used in celebration of special occasions such as weddings and birthdays in the joyous gathering of people. Learn more by reading Henna: Its History and Cultural Significance.
Marit Hovey - IFYE Participant - Iowa to Morocco 2022
On the day of Eid, the men woke up to go to the mosque at 7 a.m. When they returned, we all got dressed up in traditional clothing and everyone was taking pictures and celebrating. It almost had a feeling of Christmas morning. We ate breakfast which was full of traditional Moroccan pastries and amazing breads and olive oil. I ate until I was stuffed and then they told me to eat more.
Then it was time for the part I was least looking forward to, the sacrificing of the sheep. There were four different families. Therefore, they had four sheep on the roof ready for sacrifice once the butcher arrived. During the preparations, I was having a lot of internal struggles on whether I wanted to watch. On one hand, I was there to experience the culture and the holiday, and I wanted to experience it all. On the other, I have been vegetarian for over 12 years and did not know if I could handle watching it. I went on the roof to be with the family and watched the preparations and decided that I was not going to be able to watch and went back downstairs. 
For lunch that day, the family cooked up different organs from the sheep, including the kidneys, liver, and heart. The actual meat from the sheep would be eaten the next day for lunch. After lunch, there was the obligatory rest and nap with the rest of the day filled with hanging out with family, playing card games, watching the sunset, and stargazing. I saw four shooting stars that night. I am very grateful for the time I spent in Morocco and will look back at my time with fond memories and lots of laughs.