Foreign Exchange Program
Interview with my Swiss Host Family: The Zimmerman Family
By Nora Larson, 2023 IFYE to Switzerland (Summer) and Kenya (Fall)
September 5, 2023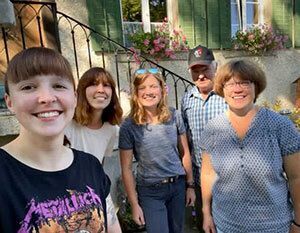 Biohof-Wattwil is the Bio Suisse farm run by the Zimmerman family. They start the day at 7am with a breakfast of bread, jam, muesli, and coffee. Peter (60s) is fascinated by North Dakota agriculture, loves Simmental cattle, and has a plethora of witty one-liners in both Deutsche and English. Doris (60s) is the thoughtful mother with an exploitative attitude towards music and a hearty dislike for bunnies. Bettina (30s) is strong, capable, funny, and a thoughtful daughter who will take on the farm when Peter turns 65. All are hard working folks with a love for nature and passion for animal husbandry.
Included in the photo to the right is Angelika, one of three Zimmerman siblings not pursuing a career in agriculture, however, she is applying to be an IFYE next year.
My time in Switzerland has been full of fascinating conversations and new perspectives on how a farm can look. After a few days on the farm I approached Bettina about answering some interview questions that would help paint a better picture of what it means to be a Bio Suisse Farm. I hope you find it as interesting as I did to put together. Also, this article wouldn't be possible without translation help from Bettina's friend. Thank you, Patrik!
Read the Deutsche version of the interview.
Interview
Nora (N): Who works on the farm?
Peter: Doris, Bettina and I.
(N): What do you like to do for fun?
Peter: my job is my hobby.
Doris: Landfrauen (women's club), playing solitaire, baking.
Bettina: hiking, stand-up paddling, meeting friends.
(N): Do you hold any other forms of employment?
Peter: I work on a large fish farm and am involved in maintenance, construction and agriculture.
Doris: I am a housekeeper. I clean the house of an older couple every Thursday. Every other Tuesday I clean an older man's house.
Bettina: I work in a nursery (organic vegetable farm - Mini Farming). Every Wednesday we put together vegetable boxes for around 110 customers. The vegetables are all grown on the family farm.
(N): How long have you been farmers?
Peter: I completed my training in 1984.
Nora Larson interviews Zimmerman Family 1
(click on each image for a larger view)
(N): Can you describe your farm?
Bettina: We run a Bio Suisse (organic) farm in the canton of Zürich. The farm consists of 13 hectors (32 acres) of agricultural land and 14 hectors (34 acres) of forest.
Twenty-two Simmental/Limousin beef cows live on our farm with their calves. At ten months we sell the calves as Bio Natura Beef. You can buy the meat in our local supermarket (Coop). We slaughter four animals ourselves and sell them directly from the farm to our regular customers.
Every year, eight cows and their calves go to an alp in Sedrun in the canton of Graubünden. The alpine pasture is important so that the mountains do not become overgrown. We can only go hiking, biking and participate in winter sports if the animals (cows, calves, cattle, goats and sheep) look after the Alps. Our advantage is that when our animals are on the alp, we can produce more fodder for the winter, which is very important, especially in the dry summer.
Unfortunately, we have a problem with wolves in Switzerland; since they are not regulated, we have overpopulation. Farm animals (sheep, goats, calves, cattle and cows) are frequently killed during the alpine season. As a result, fewer and fewer livestock owners are summering their animals and that can become a problem. We hope that the government will help correct the problem in the future.
From July to December, 110 free-range geese live on the farm. We sell 70 birds to Farmy, a large online farm shop in the Zurich region, and 40 geese directly to a restaurant in Zürich.
We grow Bio (organic) wheat, part of which we use to feed our geese. We sell the rest to an organic feed mill. We also grow potatoes for geese, direct sale, and our own meals. In the winter months we work in the forest. We sell timber and firewood.
We also keep "Appenzell Barthuhn" chickens on our farm. This breed was threatened with extinction because the hens eat almost as much as high-production hens, but do not lay an egg every day. Even though a foundation (ProSpecieRara) is committed to the preservation of old dual-purpose breeds, we are happy to do our part to insure that this breed does not disappear.
(N): What does it mean to be a Bio Suisse farm?

Bettina: We have guidelines for the production, processing and trading of organic products. Every year there is a resource list in which products are allowed to be used (e.g., which mineral we are allowed to give to the cows, etc.). Each year, we are checked by an inspector. If everything is good, we will receive a certificate.
(N): As a Bio Suisse farm how do you deal with weeds and unwanted insects?
Bettina: We have blacken (a weed that robs the grass of space and is not eaten by the cows) on two plots. These are cut out by hand. We are not allowed to use any pesticides.
We have potato beetles on the potatoes. We have to pick these by hand.
We put poles up in the fields so that the birds of prey can hunt the mice.
(N): Why did you choose a Bio Suisse farm?
Bettina: Sustainability and to be in harmony with nature.
(N): What is Natura Beef?
Bettina: 
Suckler cow husbandry
Natura-Beef stands for meat from ten-month-old calves from suckler cow husbandry. The brand's program is characterized by extensive husbandry and feeding regulations in the sense of natural and animal-friendly meat production. Beef cattle breeds guarantee excellent meat quality.
Natural animal husbandry
The calves stay with their mothers in the barn and on the pasture. Free-range husbandry with daily summer pasture and winter exercise is a prerequisite. The animals use meadows and pastures. The calves stay with their mothers until they are about 10 months old and are slaughtered.
Natural feeding
The feeding consists mainly of mother's milk, and later grass and hay. The use of growth-promoting additives; animal proteins or fats; soya; palm oil or palm fat; and genetically modified animal feed is prohibited.
Guaranteed Natura beef
Natura-Beef is a brand program from "Mutterkuh Schweiz." The production facilities are regularly inspected by beef control or Swiss animal protection. Both production and marketing are subject to strict scrutiny.
Certificate
With a suckler cow certificate, Switzerland guarantees compliance with the Natura Beef standard for each individual animal in terms of age, origin, animal history, husbandry and feeding.
Nora Larson interviews Zimmerman Family 2
(click on each image for a larger view)
(N): What does it take to become a farmer in Switzerland?
Bettina: There are two ways to complete an apprenticeship as a farmer:
Initial training: After the 9th grade (compulsory school) you complete the training for three years on three different farms. You live on these farms and go to a vocational school. 
Secondary education: Anyone who has completed a federally recognized vocational education can complete the education in an additional two years.
The training can be completed in the conventional or Bio (organic) field.
(N): How is agriculture perceived by the Swiss population?
Bettina: Overall good, but the question is for how long? When there are important votes, the population is on the side of the farmers. But I think the media is a big problem. There are many negative reports about agriculture.
(N): What is the biggest challenge for you as a Swiss farmer?
Bettina: The climate. This year the spring was too wet and the summer much too dry.
(N): Do you think the Swiss government is doing enough to support Swiss farmers?
Bettina: I think the government is pushing agriculture in the wrong direction. We have a small degree of self-sufficiency (56%). We import too much. And the government is focusing more on biodiversity and species diversity. That's good, but we have to produce food. With more imports, we harm the climate more than the promotion of biodiversity benefits.  
(N): What would you like to tell people about Swiss agriculture?
Bettina: The difference between Swiss and American agriculture is the size of the farm. In America they have a lot of land. They produce on large areas. Due to the large areas, they can keep many more animals. In Switzerland, the farms are much smaller. On average, a farmer has 21 hectares (51 acres). We cannot keep as many animals on these areas. That's why we have enough space in the stables to keep the animals in the stables during the winter months. We keep the same cattle breeds in Switzerland and grow the same grain and corn.
(N): What do you like best about rural life/farming?
Bettina:  Working with animals in nature to produce natural foods.
(N): How did you hear about IFYE?
Bettina:  From my colleague Andrea, she had an IFYE last year and was in Finland herself.
(N): Has anyone in your family ever been an IFYE participant?
Bettina:  No
(N): What's the most interesting thing you learned from me about farming in North Dakota?
Bettina:  We can't say what was the most interesting thing we learned about farming in North Dakota. Everything is very interesting and impressive for us. We can't even imagine it, these expanses, these large fields, and the herds with the many animals.
(N): What expectations did you have for the stay of an IFYE participant on your farm?
Bettina:  We had no expectation. On the contrary, we were nervous: does the language work? Can we communicate? Will Nora like it with us? Does she like working with the animals? Questions over questions...
(N): What do you hope that I will learn or see on your farm?
Bettina:  That we practice sustainable agriculture on our farm in harmony with nature. And, that we make a contribution to biodiversity and do our part to ensure food security in Switzerland and attach great importance to self-sufficiency.
(N): Would you recommend the IFYE program to others?
Bettina:  Yes, in any case.
Check out the Zimmerman farm website or connect with them on Instagram @biohofwattwil.
Nora Larson interviews the Zimmerman Family 3
(click on each image for a larger view)