Destinations 2023
Argentina


About Argentina
Argentina is the second largest country in South America. It is divided politically into provinces and, because of its climate, in regions. The regions are:
Patagonia in the south
the North West
Cuyo in the west
the Mesopotamia in the northeast
The culture of Argentina is as varied as the country's geography and is composed of a mix of ethnic groups. Most Argentines are primarily of European descent, which separates them from other Latin American countries where European and Indian cultures are more mixed. Modern Argentine culture has been largely influenced by Italian, Spanish, and other European immigration.
The majority of the Argentinians are descendants of Europeans mainly from Spain, Italy, Germany, Ireland, and France. The "mestizos" people (people of mixed race – often from Spaniard and American Indian), represent more than 90% of the total population of the country.
Government
Officially, the Argentine Republic (Spanish: República Argentina), is a federal republic. Since 2015, the President elect is Mauricio Macri.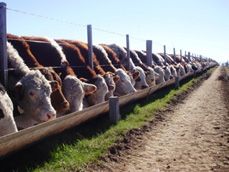 Agriculture/Livestock
Soybean and corn are the most important crops with the highest production in the Pampa's Region. Other crops are wheat, barley, and sorghum. Fruits, sugar cane, and cotton are important in specific areas.
Argentina also has a huge area of native grasses and pastures which is important to beef production. In addition, raising sheep for wool is the main agricultural production of the Patagonia region.
Agricultural goods, whether raw or processed, earn over half of Argentina's foreign exchange and remain a pillar of the country's social progress and economic prosperity.
Sports
Soccer (futbol) is the most popular sport. Argentina has a number of highly ranked Polo players. Field hockey, rugby, and golf are also favorites.
What to Expect 
IFYEs will arrive in Buenos Aires and will spend a couple of days in the capital city before going to their host families in the Pampas Region. In this area, producers raise crops and cattle or only one depending on the rainfall and soils.
IFYEs will stay on the operations most of the time, with some time in town.
Public education is considered better in the cities and big towns because country schools are often far apart for school children to attend. Farm and ranch owners try to have good employees living on their properties while they live in town. They travel to/from town for work and often spend several days each week in the country on their operations.
Argentinian food commonly includes beef, pork, chicken, fish, potatoes, rice, and fresh fruits.

Argentinians are very warm and sociable and we really enjoy meeting with family and friends.
We Wait For You In Our Dear Country!