About IFYE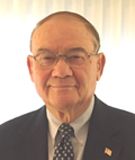 Bob Jenkins
Brigadier General (Retired) Robert G. (Bob) Jenkins. General Jenkins grew up on a farm in Madison County Virginia where he was an active participant in the farming operation. A dedicated 4-Her, he was recognized as a State winner twice (Livestock Judging and Boys Agricultural Program) and was inducted into the Virginia State All-Stars. After majoring in animal science and graduating from Virginia Tech, Bob delayed entry to active duty as a Second Lieutenant in the United States Air Force to participate in IFYE. Bob traveled to India as an IFYE in 1964, his first experience of living outside of the USA. Upon returning, he completed a Masters Degree in reproductive physiology at West Virginia University before beginning pilot training in the US Air Force.
Bob served the Air Force for 30 years as a fighter pilot, with increasing command and key staff responsibilities. During this time, he and his family were stationed in 10 states and 6 countries, both in Europe and Asia. While living overseas, he interacted with military members and government officials of the host countries as well as with the general population.
Highlights of his military career include:
198 combat missions (Viet Nam)
Member of Winning Team at William Tell Air to Air Competition
Squadron Commander of an F-15 Squadron, Bitburg Germany
Wing and Instillation Commander twice (A-10 and F-16)
Deputy Director of Operations at USAF Headquarters (Pentagon)
7th Air Force Deputy Commander (Korea)
Director of Logistics, Pacific Air Force Headquarters (Hawaii)
After retiring from the Air Force, Bob first served as President of a software sales and engineering services company. For the last 9 years of his working career, he served as a senior executive in the United States Department of Energy where he received the Presidential Rank of Meritorious Executive and the Department of Energy Distinguished Service Award.
Bob and his wife, Nicki are the proud parents of a son and a daughter and 4 grandchildren. They spend time between their primary residence in Vienna, VA and their farm in Madison County.