About IFYE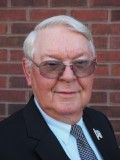 Larry Gould
Larry J Gould was born on a farm in southern Michigan, first settled by the Gould family in 1837. Agriculture was always a part of his life in addition to barn chores. He was in 4-H, FFA and attended Michigan State University and graduated from the MSU Institute of Agricultural Technology. His IFYE placement was Mexico in 1965 because he had a history of feeding beef. Larry served on the national IFYE Board from 1969 to 1972, and hosted a number of IFYEs over the years. He also was a participant in the Michigan State University Kellogg Farm Study Program which was a three-year study of state, national and world economics, governments, religion and toured Mexico, England, Italy, Sicily, India, Singapore, Thailand, and Taiwan.
Larry has been a 4-H leader 50 years, a Lenawee County Commissioner three decades, as well as farm partner with his son and brother in Gould Farms producing wheat, corn and soybeans. Locally Larry is a member of the Weston United Methodist Church and Farm Bureau, as well as a member of the Michigan Wheat and Corn Grower Associations and Soybean Commission. Family time is spent with his wife, Joan, two children and five grand children, attending fairs, ball games and band concerts. To sum it all up, Larry is a people person, ready to talk with people, care for people, and get along with people.
Larry and Joan have traveled to Sweden, Denmark, Finland, Norway, Australia, New Zealand, China, Hong Kong, Macaw, Thailand as well as all 50 states.