About IFYE
Treasurer - Jess Stairs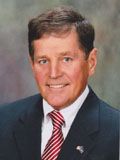 Jess Stairs was a 1964 IFYE from Pennsylvania to India.
Travel abroad did not end when Jess returned home from his IFYE trip to India during 1964-65. Since then, he has traveled to:
• Australia in 1973 as a Rotary Group Study Exchange (GSX) participant
• Europe to learn about mass transit for the Transportation Committee in Pennsylvania
• Poland and the Ukraine through the Penn State College of Agriculture five (5) times to assist Agriculture Extension
• Ukraine on the Farmer-to-Farmer program.
• China, United Kingdom, and Germany on various other trips
Jess hopes that he can continue to travel as he serves on the IFYE Association Board. He feels that learning about different cultures is important to IFYE and education lets us help people.
After serving 32 years in the Pennsylvania House of Representatives, Stairs retired in 2008.
As chairman of the Education Committee, he was involved in education policy in the state's schools. During his tenure, he traveled to many states representing the Commonwealth of Pennsylvania.
During his time in state government, he received the following awards:
Friends of Penn State 2007
Indiana University of Pennsylvania (IUP) Friend of Higher Education 2008
Indiana University of Pennsylvania (IUP) Legislative Fellow 1997
University of Phoenix Honorary PhD 1995
National 4H Alumni 1984
Current community involvement includes:
Member of Government Relations in Farm Bureau
Pennsylvania Sheep and Wool Association
Trustee Westmoreland Community College
Director Frick/Westmoreland Hospital Foundation
Trustee Acme United Methodist Church
While at Pennsylvania State University, Stairs received a Masters' of Education in 1969 and a Bachelor's of Science in Agriculture in 1964. He was also active in the Dairy Science Club, Campus 4-H Club, a Member of the Dairy Judging Team, and a member of the Coaly Society. (The Coaly Society is an honorary society for College of Agricultural Sciences students at Penn State University who have demonstrated leadership excellence and satisfactory academic performance.)
Stairs was also a school teacher for 5 years and then served on the Mt. Pleasant School Board for three years
Now that he is retired, he divides his time between traveling, golfing, part time farmer raising Suffolk sheep, and enjoying his grandchildren. Jess and his wife Joan have two children and five grandchildren.