About IFYE
Associate Treasurer - Don DeWerff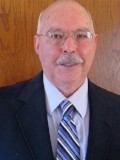 Don DeWerff was an IFYE/YDP from Kansas to Thailand in 1975. Raised on a registered Holstein dairy farm with diversified crops, he was a 12-year 4-H member and participated with FFA in high school, holding leadership roles in both organizations. Don went to college to play baseball and to become a 4-H Extension Agent. He attended Colby Community College in Colby, Kansas and later transferred to Kansas State University where he completed both BS and MS degrees. During 1983-84, DeWerff took a sabbatical from Kansas State and backpacked around the world visiting and staying with people he and his family had hosted.
After twenty years as an Extension Educator, he joined a local bank and created a Farm Management position along with serving as a leasing and loan officer. DeWerff is currently in sales for the State of Kansas.
Don was raised welcoming all missionaries and visitors from the church to his parents' home. This is where he started to learn of cultures and customs of other lands. The first IFYEs he met were at a state 4-H camp at Rock Springs Ranch in 1970. "I overheard and observed 5 inbounds talking about their host families and what they were learning while in Kansas. I was "hooked" and I knew that I wanted to do what they were experiencing," he says.
Don is married to Cheryl – a retired school counselor and German and French teacher. They have two grown children who love to travel: Taryn - a Registered Nurse and Matthew - a mathematics teacher and basketball coach. Both were in 4-H and Don was a community leader of their club for many years. The family has hosted youth and adults from all over the world from 1 night to one-year stays.
Don's free time will find him hunting, gardening, watching sports, or just visiting with people. He has been active in the community serving as a City Council member for six years, a Rotary and Optimist club member, a Deacon and Trustee and multiple other volunteer positions in their church.