About IFYE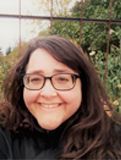 IFYE Board Member - Anna Parker

Anna represented the US as an IFYE from Montana to Finland in the summer of 1998.  Beyond spending the summer on two small farms in central Finland learning about local culture, customs, and production agriculture, she made lifelong friends in her host-families.   When one of her host sisters, an IFYE herself, was helping plan the European alumni conference in Finland, Anna decided to go.  This one week of continued cultural and agricultural education and fun led to more friendships across Europe.  Visiting her IFYE family at the European conferences and World conferences are now some of her most cherished memories.  
Going on an IFYE exchange in college spurred a life-long passion for international agriculture and travel.  To date, she has travelled to over forty countries in Africa, the Americas, Asia, and Europe. 
Anna grew up on her family's diversified farm in North Central Montana.  She was active in 4-H at the county and state levels and represented Montana at several national contests and conferences.  She also served as a Montana 4-H County Ambassador and as State Ambassador President.  She earned a BS in Agricultural Business from Montana State University, in Bozeman, Montana, and MA in Public Administration from Hamline University in St. Paul, Minnesota. 
Anna has served American agriculture as a USDA employee since 2002.  She currently serves as a national Risk Management Specialist for the USDA Risk Management Agency.  While her office is based out of Kansas City, Missouri, Anna works remotely from her family farm in Montana.  This allows time on the nights and weekends to help in her family's organic greenhouse operation.