Upcoming Conferences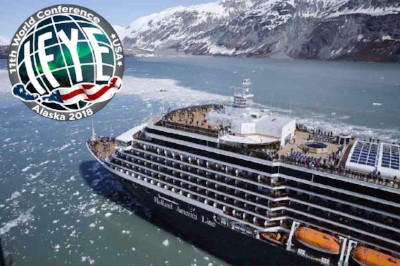 11th WORLD IFYE CONFERENCE
8 - 16 September 2018
"Cruisin' with IFYE"
Hosted by the IFYE Association of the USA
Cruise Vancouver, British Columbia to Anchorage, Alaska aboard Holland America Line ms Noordam
The conference begins with two optional events at the Sheraton Vancouver Airport Hotel on 8 September 2018:
1968 IFYE 50th Anniversary Gathering and Brunch
IFYE "Meet and Greet", a chance to visit and reconnect with IFYEs and others
The 7-day Alaskan  cruise will depart Vancouver, British Columbia, Canada on 9 September 2018. Ports of call stops in Alaska will include: Ketchikan, Juneau, Skagway, and Seward (Anchorage) with a day of scenic cruising in Glacier Bay. The cruise will end in Seward, Alaska on 16 September 2018.
Registration is planned to be available on the ifyeusa.org website by the end of the first week of July 2017
For Additional Information: View the IFYE USA April 2017  newsletter page # 12.  (http://ifyeusa.org/news-conferences/newsletters.html)