Destinations


About the State:
Tasmania is that little island at the southern end of Australia, also affectionately known as "Tassie", and has a population of approximately 515,000 people.  The capital city is Hobart, in the south of the state, a beautiful city situated on the river Derwent at the foot of majestic Mount Wellington.  Other main population centres are Launceston, Devonport and Burnie, with dozens of interesting towns and communities in between. 
Beautiful beaches abound particularly down the East Coast including: St Helens, Binalong Bay, and Freycinet.  Several wildlife parks allow visitors to see Tasmanian Devils, kangaroos, wallabies, echidnas, etc. up close.  We have fabulous cave systems to do guided tours, rainforests and waterfalls to visit, and fabulous shopping opportunities at every turn, whether it be mainstream shops you are after, or beautiful handmade Tasmanian crafts, as well as quality Tasmanian wine and foods.  For the adventurous visitor, there is ziplining at Hollybank Treetops Adventure, walk amongst the treetops at Tahune Airwalk, or slide down a 110 meter covered-in slide to the bottom of Dismal Swamp to walk through the intricately designed maze system amongst the blackwoods, and intriguing art installations.  Take a chairlift across the beautiful Cataract Gorge, or in the far north west of the state, a chairlift will take you up to the top of The Nut.  So many more amazing things to visit, see, and do.
Agriculture is essential to Tasmania's viability, with crops such as potatoes, peas, beans and carrots common crops.  Wool grown in Tasmania is amongst the finest and therefore most expensive, in the world.  Tasmania has a pristine environment with a world renowned "clean and green" image and a specialty food industry – cheeses, salmon and fish products and wine which have won national and international awards.

What to Expect:
Tasmanian Rural Youth is the only active Rural Youth Organization currently involved in the Australian Rural Youth Exchange Program and therefore placements are offered bi-annually for incoming and outgoing exchangees (2017 and each odd year offered to USA to send a representative). 
Promotion of agriculture is a major focus of Tasmanian Rural Youth who are the owners and operators of one of the top field days in Australia, AGFEST.  Held in May each year, IFYEs are traditionally timed so that exchangees can live and work on site alongside 120 volunteer Rural Youth members to run the world-class event. 
IFYEs will arrive in Hobart and spend a couple of days there before going to host families. IFYEs from two or more countries will often share rural host families.  
Tasmania accepts exchangees here from mid-April through until mid-July, which is the autumn/winter period so there's a 99% chance you will see snow at some point across the highlands and usually on Mount Wellington.  Temperatures can range anywhere from a crisp 8 degree Celsius during the day to high teens, with overnight lows sometimes dropping down to minus 3°C, depending on where in the state you are.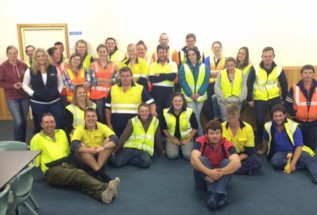 RY Volunteers at AgFest
Rural Youth Tasmania puts on Agfest Field Days at the beginning of May every year, attracting over 60,000 visitors, as well as 700 exhibitors over 3 days.  Our volunteer members from all over Tasmania run the event and stay on site for the week.  Overseas exchangees get to participate in this and may find themselves parking cars, working in a ticket box or handing out hot egg and bacon rolls to the volunteers, helping out wherever needed.  Putting together this massive event is a great experience of camaraderie and friendship, but there is plenty of time for fun and relaxation and lots of opportunities to meet Rural Youth members from all around the state. 
Rural Youth have a couple of formal events during that time period – the Agfest dinner at the end of May and the State Ball in June ... plus lots of fun club activities in between.
IFYEs at Work and Play

Australian Landmarks
---
PROGRAM INFORMATION:
Applications for the 2017 program can be found on the IFYEUSA.ORG website under the Exchange Programs tab. 
APPLICATION DEADLINE:  February 1, 2017 
For further information, please contact:
Alan Lambert, IFYE National Program Director 
alanelambert@ifyeusa.org