About IFYE
Nancy Maxwell - Rich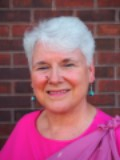 Nancy Maxwell-Rich was a 1967 IFYE from Illinois to India and she has BS and MS degrees from University of Illinois. Her life perspective was forever changed by meeting and visiting with an IFYE from India, Prakash Gupta, when she was 7 years old and then going to India as an IFYE in 1967 and meeting Prakash Gupta and his family in his home area.
Maxwell-Rich is a transplant to the Pacific Northwest after a few years in Illinois Cooperative Extension Service. She was a group leader for a 4-H Caravan group to the Caribbean in 1971. After completion of her Master's degree in Human Development and Family Studies, she joined the faculty at Walla Walla Community College in Walla Walla, Washington in 1972 and spent the next 40 years in community college education and administration spanning six community colleges, two universities and two states.
Maxwell-Rich is a veteran and quasi-master of change! She completed a PhD in community college leadership, business/vocational education and human development in 1984. Throughout those years she has served on numerous boards and agencies representing colleges and higher education and many church boards and agencies. She often led strategic planning, mission/vision workshops, business surveys and program development workshops. Advisory committee management was essential.
Maxwell-Rich is now retired and enjoys living in Corvallis, OR. She is married to her best friend, Joe Rich. She has addicted him on international travel and the IFYE perspective. They plan to continue international travel in the next several years. They are active in their local community and United Methodist Church. They try to be supportive and active parents and grandparents.